Next-gen 2018 Buick Regal and Buick Enclave unveiled in New York
April 30 2017,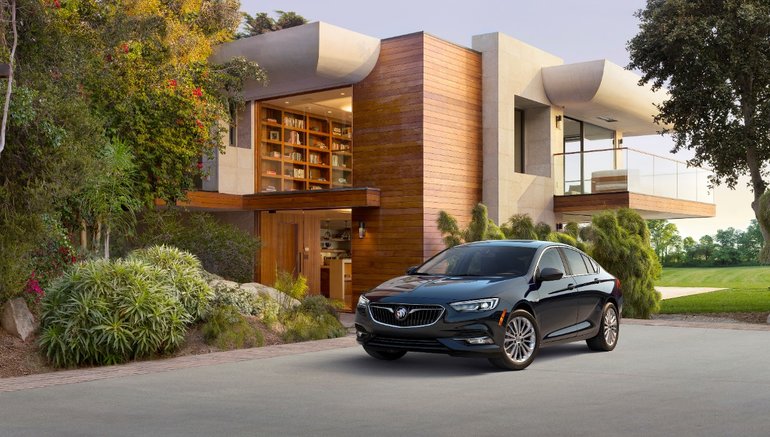 The 2018 Buick Regal Sportback was unveiled just a few weeks ago right next to another important new Buick model, the 2018 Buick Enclave full-size SUV. In redesigning both models and unveiling them basically at the same time at the New York International Auto Show, Buick now boasts one of the youngest lineups in the automotive industry. That means that when you step into a Buick, you get the very best in terms of safety and connectivity technology, all wrapped up in a bold design and a luxurious package that provides tremendous value.
2018 Buick Regal Sportback
As for the 2018 Buick Regal Sportback, buyers should expect the same level of sportiness that was found in the previous Regal, but with added comfort and versatility. Indeed, the new Regal Sportback now features 892 liters of cargo space… with all seats in place! The driver-centric cabin is now quieter thanks to more soundproofing, and the materials used in the cabin are more refined overall.
There are also plenty of added safety features including the Buick-exclusive hood pedestrian protection system which raises the hood by a few inches to protect a pedestrian if a collision is unavoidable.
Under the hood, the 2018 Buick Regal Sportback will feature a 2.0-liter, turbocharged four-cylinder engine that offers 250 horsepower and 260 pound-feet of torque in front-wheel drive models, and 295 pound-feet of torque in all-wheel drive models. An 8-speed automatic transmission will handle duties in the latter while FWD variants get a 9-speed automatic.
2018 Buick Enclave
The 2018 Buick Enclave will be powered by a 3.6-liter V6 engine that delivers 302 horsepower and 260 pound-feet of torque. This engine will be paired with a nine-speed automatic transmission, and all-wheel drive will be optional.
Improved interior dimensions means that you can accommodate up to 8 passengers like in the previous-generation Enclave, but buyers will also benefit from a cargo capacity that has increased by 10 percent. That means that you can now hold up to 668 liters behind the Enclave's three rows of seats. In other words, everyone can jump in the new 2018 Buick Enclave, and there is still room for all their bags.
The 2018 Buick Enclave will also offer the exclusive and uber-luxurious Avenir model. This new model designation will be found on other Buick models in the near future, but the Enclave is the first to offer it. Designed to offer the very best in luxury and refinement, the 2018 Buick Enclave Avenir will come with features like a 10-speaker Bose audio system, stitched leather seats, all the active safety systems you could ever want, and a lot more.
To learn more about the all-new 2018 Buick Enclave and 2018 Buick Regal Sportback, contact us today at Bruce GM Digby!