Great job!
Other customers satisfied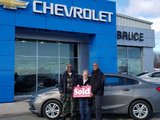 Maurine and Reginald Cromwell
"Great experience. Tom and Riley did a great job!" - Maurine and Reginald Cromwell, 2018 Chevrolet Cruze
Awesome Experience All Around
Awesome experience all around!
Excellent customer service. Everybody was responsive and worked with my needs. A great experience and I would definitely recommend the dealership to my friends and family! Thank you :)
We had a good time! There was a lot of signing, but it was all good!
See all testimonials