Chevrolet Colorado ZR2: a more muscular Chevrolet Colorado
November 28 2016,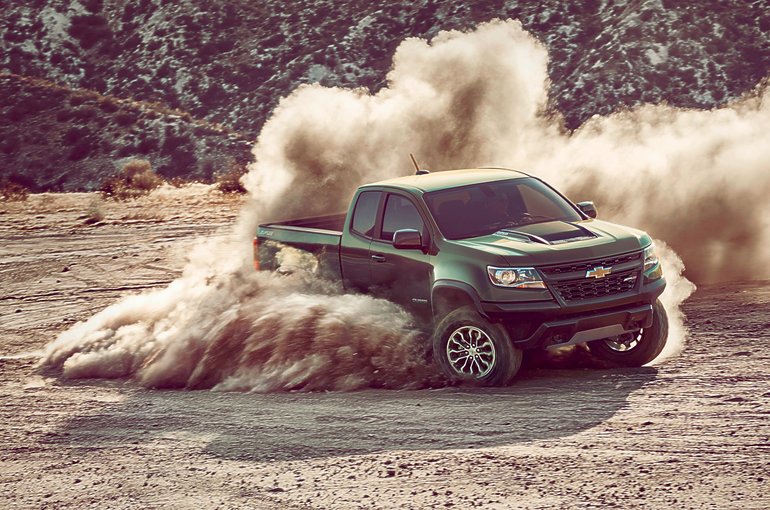 Chevrolet made quite a splash last week at the Los Angeles Auto Show when it unveiled a much more muscular version of the Chevrolet Colorado, the American automaker's mid-size pickup truck offering which has been on the market for few years now. The Chevrolet Colorado ZR2 will be take on the Nissan Frontier PRO-4X and the Toyota Tacoma TRD Pro when it enters the market in the next few months.
New suspension for the Chevrolet Colorado ZR2
When we want to venture off the beaten track, our suspension inevitably will play a pivotal role, and one look at the Colorado ZR2's setup confirms that the pickup's suspension will be able to handle anything you may want to throw at it. The Chevrolet Colorado ZR2 starts with a three-and-a-half-inch wider track and a raised suspension that will allow it to climb over tall obstacles on the road.
The Chevrolet Colorado ZR2's bumpers were also revised to allow for better approach and exit angles, allowing the Colorado ZR2 to navigate rugged terrain without difficulty. Better yet, the truck also receives locking front and rear differentials, again in order to be able to navigate complex obstacles that would be impossible to handle with other pickups.
The Colorado ZR2's shocks have also been redesigned. Developed by Ontario firm Multimatic, the shocks are called Dynamic Suspensions Spool Valve, and according to Chevrolet they will offer a perfect balance between comfort and performance on the road, as well as top-notch off-road performance.
A rugged design and two engines for the Chevrolet Colorado ZR2
Visually, the Chevrolet Colorado ZR2 stands out with its tubular steel underbody guards, extra underbody protection plates, a spare tire mounted in the box, and 17-inch wheels that are wrapped in Goodyear Duratrac 31-inch tires. As you can see, the Chevrolet Colorado ZR2 will not be afraid to get dirty.
Under the hood, the Colorado ZR2 gets either a 3.6-liter V6 engine developing 308 horsepower, or a four-cylinder turbodiesel engine that delivers 181 horsepower and an impressive 369 lb.-ft.of torque. The towing capacity is set at 2,268 kilos, or 5,000 pounds. The Autotrac transfer box that equips the Chevrolet Colorado ZR2 will allow up to 9 driving modes.
To learn more about the new 2017 Chevrolet Colorado, contact us today at Bruce GM Digby!