2018 Chevrolet Traverse reviews are out
September 29 2017,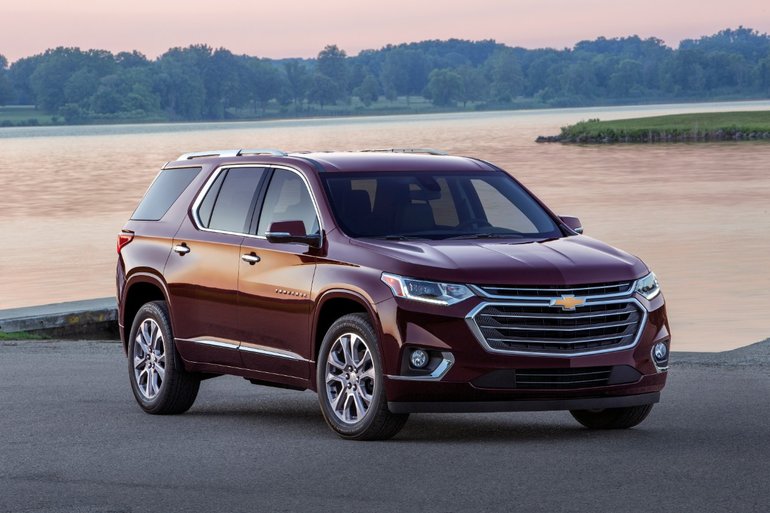 For many consumers, the idea of owning a minivan just doesn't work in their minds. For those buyers, Chevrolet has a solution in the form of the 2018 Chevrolet Traverse. Completely redesigned this year, the 2018 Traverse takes everything buyers loved about the previous generation, and adds even more convenience, more efficient engines, and a sleeker, more upscale design.
Let's have a look at some of the 2018 Chevrolet Traverse reviews that have been published recently.
The 2018 Chevrolet Traverse walks a delicate line between being an affable, family-friendly crossover SUV and looking like something more rugged and capable.
Clean styling inside and out, an enjoyable standard powertrain, a comfortable, spacious cabin, and most of the equipment we expect in a modern family car help the 2018 Chevrolet Traverse score 7.2 out of 10 in our testing.
For now, all Traverses use a new 3.6-liter V-6 with 310 horsepower and 266 pound-feet of torque that adds 20 hp over last year's V-6. It's the only available engine until a 2.0-liter, turbocharged inline-4 joins the lineup under the hood. The V-6 model improves on the first-generation crossover's fuel economy despite the extra power. – The Car Connection
---
After about a decade, Chevrolet has finally replaced the first-generation Traverse three-row crossover with a new model that offers refinement as well as packaging and connectivity improvements.
On the road, the Traverse proves to be a mild-mannered, easy-going coach. Power from the 3.6-liter V6 is smooth, with a swifter throttle response than the outgoing Traverse. Combined with an unobtrusive, nine-speed automatic transmission, the powertrain is unstressed around town and capable of brisk passing maneuvers.
Outward visibility is strikingly good, helped by tall front and side windows. Glancing over the shoulder, rear corner visibility is limited only by the thick rear pillar. Backing up is helped significantly by an available 360-degree view in addition to the traditional straight-back camera perspective. The sense of space is aided by the two glass roof panels. – Consumer Reports
---
Its masculine image may be more appealing than a minivan, but the Traverse's interior is almost as spacious. The 310-hp 3.6-liter V-6 under the hood drives the front or all four wheels through a slick-shifting nine-speed automatic. A 7.0-inch infotainment display is standard and an 8.0-inch unit is optional; both come with Apple CarPlay and Android Auto. Automated emergency braking is an available feature, as are conveniences like adaptive cruise control and automatic high-beam headlamps. – Car & Driver
To learn more about the 2018 Chevrolet Traverse, contact us today at Bruce GM Digby!