2017 GMC Acadia: all-new and better than before
December 30 2016,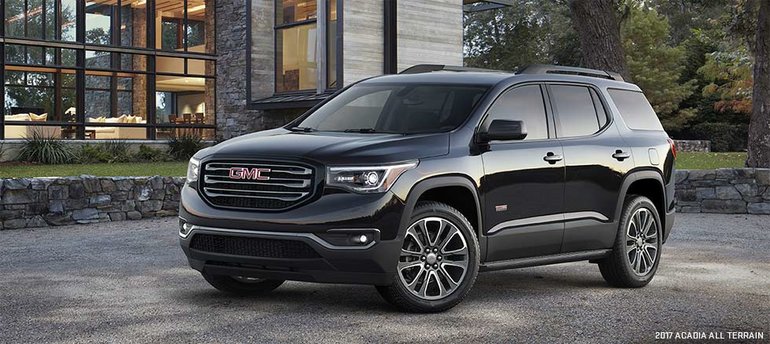 GMC's Acadia was due for an overhaul, and the 2017 GMC Acadia is the end result. Featuring plenty of interior space even if it is smaller and lighter than ever, the seven-seat GMC Acadia can sit up to seven passengers in total comfort while ensure that everyone is protected and connected thanks to a host of safety and connectivity technologies.
2017 GMC Acadia: smaller but with more interior space and comfort
The new 2017 GMC Acadia is smaller than its predecessor thanks to a shorter wheelbase to go along with a narrower body and shorter overall length. This hasn't compromised interior space too much, however, given that the new Acadia's interior is much more efficient and configured in a way that optimizes versatility. On the other hand, the reduced weight means that the new 2017 Acadia is more fuel-efficient while also being more stable and agile.
This is especially true when you opt for the GMC Acadia Denali which features an adaptive suspension that can read the road and adapt in order to provide optimal comfort and handling.
There are two engines found in the 2017 GMC Acadia. The first is a 2.5-liter, four-cylinder engine that delivers 193 horsepower and 188 lb-ft of torque. This engine can be paired with either front-wheel drive or all-wheel drive and proves to be quite fuel efficient with a fuel consumption rating of 11.0 liters per 100 kilometers in the city, and 9.2 liters per 100 kilometers on the highway.
Next in line is the powerful 3.6-liter V6 which delivers 310 horsepower and 271 lb-ft of torque. Paired exclusively with all-wheel drive, this engine is both very powerful and efficient with an average fuel economy rating of 13.3 liters per 100 kilometers in the city and 9.5 liters per 100 kilometers on the highway. Towing capacity is 1,493 kilograms.
Plenty of safety and connectivity tech in the new 2017 Acadia
Thanks to 4G LTE Wi-Fi to go along with Apple Carplay and Android Auto connectivity features that ensure that you are always connected, the new Acadia also features a host of advanced safety technologies which include adaptive cruise control, lane keep assist with lane departure warning, cross-traffic alert that can recognize pedestrians, low-speed autonomous braking, following distance indicator (which warns you if you are too close to the vehicle ahead), forward collision alert and automatic high-beam control. Keeping your family safe is at the top of GMC's to-do list.
To learn more about the 2017 GMC Acadia, contact us today at Bruce GM Digby!