2016 Chevrolet Cruze: The New Benchmark
August 11 2015,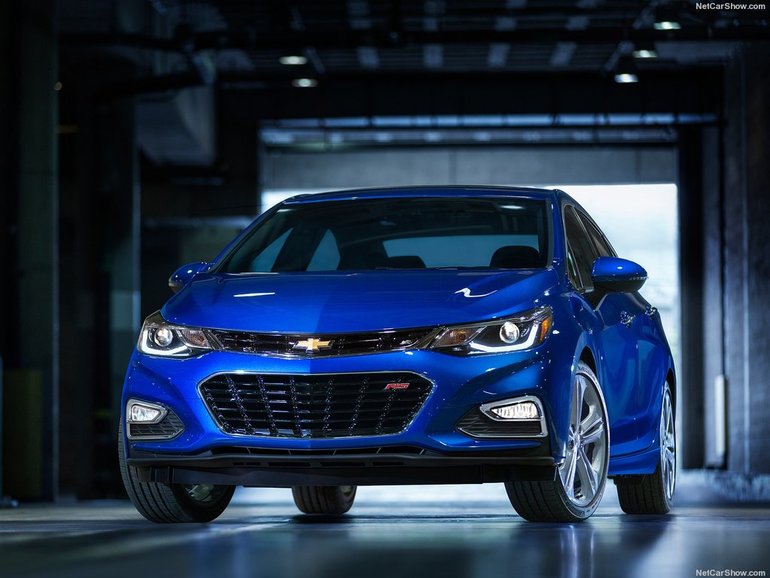 The Chevrolet Cruze has been a staple of the compact sedan market ever since it arrived on the market seven years ago.
Today, over 3.5 million Cruze models have been sold worldwide, and now a new generation is about to hit the market. More than a refresh, this new 2016 Chevrolet Cruze has a bold new design, a new selection of engines, and features that we hope to find on a compact vehicle with others that we do not expect to find.
No question about it, Chevrolet left nothing to chance in designing the new Cruze. In terms of looks, Europe was clearly the inspiration with the new Cruze showcasing a refined design that looks good from any angle. The Cruze has an upscale design that is both sharper and more modern, with signature features like the lower grill and aggressive headlights that are sure to get noticed on the road. Moreover, the new design flows better which leads to improved aerodynamics and an improved drag coefficient of 0.29. That means better fuel economy among other things. Also helping improve fuel economy is a new chassis that is 113 kilos lighter than the one found in the current model.
It was important for General Motors to improve the already popular Cruze in every way possible. Let's not forget that Chevrolet's compact model is the sixth highest selling model in Canada, and outperforms well-known models like the Jetta, Accent, Focus and Sentra. In the United States, the Chevrolet Cruze is the most popular car in the Chevrolet range. The automaker therefore could not leave anything to chance. And they didn't.
Sold in more than 40 countries, the new Chevrolet Cruze will get a lineup of retuned engines that are both more efficient and more powerful. The base engine is all-new. A 1.4-liter direct-injected turbocharged four-cylinder unit, it delivers 153 hp and 177 lb-ft of torque starting at 2 000 rpm. That's quite a bit of power for an engine that General Motors says will have an average fuel economy of 5.9 liters per 100 kilometers. The power will be sent to the front wheels thanks to a standard six-speed manual transmission, or a six-speed automatic gearbox.
Chevrolet also confirmed at the launch of the Cruze last July that the diesel version will be back starting in 2017. A new 1.6-liter turbodiesel will replace the outgoing 2.0-liter unit. According to the automaker, we will see a lot more diesel versions on the roads, Chevrolet wanting to push the technology further.
Inside, buyers get a modern cockpit and a more spacious interior. Rear legroom is said to have increased by 18 mm while 6 mm have been added to the front. In terms of features, LT models will get heated seats and a charging station for your smartphone, among other things.
To learn more about the 2016 Chevrolet Cruze, contact us today at Bruce GM Digby!